by adustyframe ~ August 19th, 2006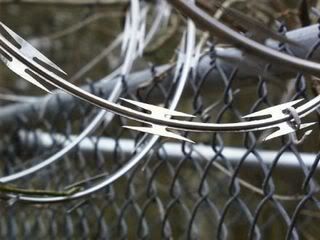 Today was visiting day. 2 hours this time.
I was saying before that 1 hour wasn't enough–well 2 hours isn't either.
Today was a beautiful day and somehow it still seems unreal to me that my husband is not free.
This prison has razor wire along the fences–man that stuff is ugly up close. It makes me shiver. The walks are flower lined and it just strikes me so odd.
These beautiful flowers and birds singing, soft breezes and razor wire. It's a jarring back to reality.
The other odd feeling is the doors and gates buzzing open just as I arrive to them. Obviously I know that they know exactly where I am but it's still a strange feeling.
My husband got new glasses–bifocals! (old man!) He says he can see so well. I told him he needed glasses ages ago. Of course they are prison issued so they are rather geeky! I tried to not offend him but he didn't look like my husband at all with those ugly frames on his face. I'm glad he can see though.
He shared some wonderful things he's learning in books he's been reading. Maximize your Manhood he says I should read it with him. He was so excited about the things God was showing him. That makes me so happy and shows me how God answers these prayers I have prayed for many years.
As he shared what God was showing him and convicting him about, his face was so animated. He was so excited about the things of God. My heart was so delighted. I looked across the table and felt my heart squeeze. "He is so handsome" I thought.
Anyone else would have seen a man with geeky glasses and a green polyester jumpsuit.
But me? I saw the answer to my prayers across from me. I saw the man in the tuxedo on the wedding day. The new daddy smiling at me with a tiny bundle in his arms. I saw him with eyes full of the love that God has restored to us.
We prayed together too. Holding hands. His hands are smooth because he's not working. Usually they are rough like sandpaper.
When I left, I so wanted to hold out my hand to him and say "Come with me"
Walking out the door and leaving him there is very hard. I walked down the razor wire flower lined path trying not to cry this afternoon.