by adustyframe ~ December 27th, 2006
Recently, I purchased an e-book from Cindy Rushton about notebooking. I found a great sale on it awhile ago.
Since I am a scrapbooker this is right up my alley. I am really excited about it and my son is enjoying it. So far we have made a music notebook for our music and composer studies.
This term we studied Mozart so he's the 1st entry.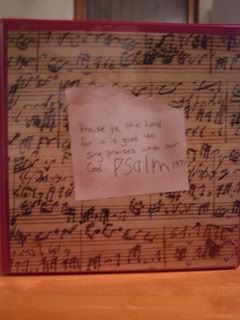 (A side note on the George Washington entry. My son said he thought that George Washington was Mozart's president due to the hairstyle. So we looked up where he lived and compared time periods. He felt that was important to include. I thought it was fabulous that he put that all together.)
My son is just learning how to write, so I only had him copy a word or two. He will do more copywork as he gets older.
We also made a notebook for missionaries. He learned a lot about Japan when we had a missionary from Japan in our home this fall. We will add more missionaries to the notebook as we have them at church.
We are going to make a "books we read in 2007" notebook. I think it will be fun to keep track of how much reading we do.
I like this concept because it keeps all the bits of information in one place and he can go back and look at it.
I gave him all my old scrapbook scraps. That was a great feeling. I can put those little pieces of paper or papers and stickers I don't need anymore to a great use.
These binders are not cheap though! So my best budget tip is to look at thrift stores. So far I've found about 5 in new shape and have spent $1 or .75 each on them. (As opposed to $4 or $5 at the store.)
I have also found page protectors at the thrift store too. I was so excited to see them on the pile.
My son is very proud of his work and making notebooks and preserving the things he's learning is a fun addition to our homeschool.