by adustyframe ~ February 15th, 2007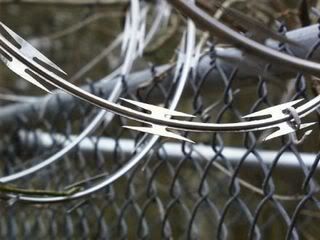 My sister in law says it's just because I'm sensitive right now.
Maybe.
However, I'm amazed at all the joking references to jail I hear.
A candy bar commercial, features a bubbly guy yelling, "I'm going to jail!"Cartoons make fun. Sitcoms make fun. I read a blog post the other day that included the comment "I'm not afraid to go to prison." (It wasn't about standing up for one's faith.)
Tired moms say "I wish I could go to jail. It would be like vacation."
People say they're in prison because of xyz emotion. Just say that emotion bogged you down or burdened you.
You may feel trapped, but if the government hasn't removed your freedom, you are not in prison.
AAAACK!
Every time I hear it laughed about or treated lightly, I wince.
It's not funny. It's not even close to funny.
Yes, I will admit before all this happened to us, I didn't realize how serious incarceration is. Perhaps I made a joke about jail. I don't know. It's possible.
It's not funny, it's not a joke, and if you're not in prison, call it bondage–don't call it prison.
Phew, thanks. Back to your regularly scheduled blogging…
*I am not angry, just making an observation.