by adustyframe ~ February 4th, 2008
I have forgotten to participate in this–actually you all probably know that it's hard to participate in every carnival out there in blog land.
I think this is a worthwhile carnival, and I'm going to try to be better about participating.
You can find other posts at Chrysallis.
My most memorable valentine is the first Valentines day that Lee and I spent together.
I had given him strict instructions that he was NOT to buy me roses. I thought–and still do–that the prices for roses on Valentines day are ridiculous.
He started acting weird about 10 days before Valentines day. I mean REALLY weird. He wasn't making sense and he'd get upset with me quickly. I didn't know what to make of it at the time.
He told me the night before Valentines day to wear a nice dress and be ready to go at a certain time. When I asked him what we were doing, he said, "Are you trying to ruin it?"
So I didn't ask anymore.
When I left work on Friday, the girls said, "We'll see your diamond on Monday!" and I snorted, "Yeah right."
Lee picked me up in the afternoon and gave me roses and a beautiful card. He had made a tape of old love songs and when he turned it on it played "Earth Angel". He said that I was his Earth Angel.
Then he started fiddling with my hand and I realized he wasn't fiddling. He was putting a ring on my finger.
(Much better! The other photo was bugging me)
He had chosen a diamond for me, paid cash for it, and picked it up all without my figuring it out. (Hence his weird behavior. He said he was so worried he wouldn't be able to keep it a secret.) I had always wanted a set and I think it's special that he picked a set out without any input from me.
I said, "Yes" and he started to give me a kiss, but said, "Just a minute." Then he ran over to the tape player and hit the button again and it sang out, "Going to the Chapel". I told him he must have been rather confident I'd say yes.
He took me out to eat, but since it was Valentines day the waits were super long. We ended up in a tiny cafe and he recited poetry to me. (I think it along the lines of Roses are Red, but it was very cute and sweet.)
Being proposed to on Valentine Day makes it incredibly memorable. Unfortunately, a romantic proposal does not make an easy marriage.
Our marriage has had some wonderful highs and some horrible lows. (Obviously or I wouldn't be blogging about prison!)
It is truly by the grace of God that we are still married, that we are completely in love with each other, and that we are looking forward to our future.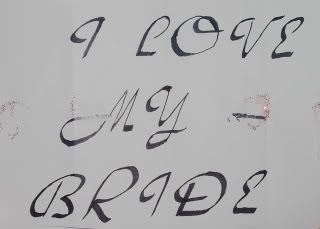 I wrote quite a bit about choosing to stay married to Lee in this post. If you're new here, perhaps you'd like to start there.