by adustyframe ~ August 19th, 2009
We must have cake at a birthday bash right? Here's a repost of something I shared a couple years ago. At the end of the post, I'll link to cake recipes I've posted.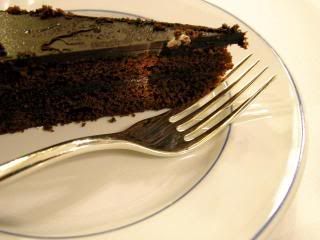 I'm finally posting this tonight because I'm hungry and I'm too tired (and it's too late!) to make anything.
I have been thinking about chocolate cake all day.
When we were kids, my Mom made all sorts of chocolate cakes. She tried lots of recipes.
She most often made crazy cake–no eggs, or oil.
She tried sauerkraut chocolate cake once. Yes, you read that correctly. The first time it was ok. We thought it was coconut. The second time, she dumped the excess sauerkraut into the cake and it was horrible. It gives me the shivers thinking about it 20 years later!
Chocolate cake is always a great recipe to try right? Even if it's not quite perfect, it still tastes good–as long as you don't go crazy on the sauerkraut!
Did you know that chocolate cake applies to your life?
Chocolate cake requires ingredients–flour, sugar, eggs, chocolate, sour milk. When you bake a cake, you change those ingredients into something very different than they were at the start. You desire to produce a delicious dessert to bless your friends or family with. You don't look at these ingredients with a vicious delight in ruining them do you?
Sugar is a must in cake. It provides the sweetness.
Life provides us so many sweet moments. Even now, I find a lot of joy and sweet in our days.
My son's laughter
People helping us
Drawing closer to God
Taking time to read, or craft
Sitting outside enjoying fresh air while I watch my son play
New babies
Celebrations
Psalm 104:34 My meditation of him shall be sweet: I will be glad in the LORD.
How would your cake turn out if it were 100% sugar? Could it withstand the heat of the oven?
What about your life? If you only ever had sweet would you be able to withstand the heat?
Flour is another necessary ingredient. Have you ever played with flour? It feels smooth and silky, but it is also dry.
Imagine a chocolate cake made solely of flour. Obviously it would not be a chocolate cake.
It would be dry, tasteless, and without consistency.
Life brings us dry times. Times that leave our souls parched.
Psalm 63:1 O God, thou art my God; early will I seek thee: my soul thirsteth for thee, my flesh longeth for thee in a dry and thirsty land, where no water is;
When life brings dry times, quench your thirsty soul in the Word of God.

Chocolate cakes usually have eggs. Raw eggs. Life is raw sometimes. I can attest to that fact. I have lived through incredibly raw experiences in this trial.Did you ever get a raw
deal? Did things ever go completely wrong for you? Did the unfairness of someone you love leave you open and bleeding?
Psalm 109:22 For I am poor and needy, and my heart is wounded within me.

When experiences leave you raw, turn to the Great Physician.
Of course, you must have chocolate if you're making a chocolate cake. Gotta love the chocolate.
I'm sure my son is not the only child to taste the baking cocoa Unfortunately, I didn't have the camera close enough to get that photo! He spit and clawed at his mouth to remove the horrible taste. He hollered, "WHY DID YOU LET ME DO THAT?"
Why is it that baking cocoa smells so luscious and yet tastes so disgusting?
Life can definitely be like cocoa. Often things that look or smell good, draw us in. We taste and see that it is not good. Experiences leave us with a bitter burning in our heart. We wish removing the bitterness were as easy as spitting.
I distinctly remember driving home on afternoon before my husband had to check in to the jail. We were at our very lowest point and I had no knowledge that he would ever even change.
Hot tears rolled down my cheeks and I said out loud, "Oh God. This is bitter."
Job 23:2 Even to day is my complaint bitter:
When life offers you bitterness, turn to God and ask him to remove the root before it overwhelms your life.
My Grandma's chocolate cake recipe included sour milk. It is not fit for drinking. It often gives off a foul odor.
Life stinks sometimes right? I've even said that. This trial stinks–that is the fact of the matter.
I desire however, for this trial to produce a sweet smell in my life.
Philippians 4:18 an odour of a sweet smell, a sacrifice acceptable, well pleasing to God.
When life sours and stinks, offer your life as a sweet sacrifice to your Heavenly Father.
So a chocolate cake has some good news–sugar. Then lots of bad news! Life often can seem to be mostly bad when we have our eyes on the problems.
A chocolate cake doesn't only require ingredients. It requires beating.
My Mom had a lot of quickly jotted down recipes. She often left out assumed instructions. Like "pre-heat the oven" or "mix".
My sister used such a recipe to make a chocolate cake one time. Because the card didn't say "mix", my sister didn't mix it. She dumped it into the pan and popped it into the oven.
It turned out a rock solid block of burned stuff. It took Mom days of soaking to get that mess out of her favorite pan.
Storms come in our lives. Trials rain down on us with a frightening vengeance. If we're not careful, we will become like the disciples. They had their eyes on the storm and fell apart.
God uses times of mixing to prepare us and make us usable.
Mark 4:37 And there arose a great storm of wind, and the waves beat into the ship, so that it was now full.
When life brings storms, keeps your eyes on Jesus.
A cake also requires heat. Without baking, your cake will only be batter.
Good to lick off the spoon (if you allow that sort of thing)
Not good to share with anyone
Not good to take to Church supper
Can't put a birthday candle in it
It may taste good but it's useless.
I don't like this trial. I do not like the heat. I wouldn't have asked for it, but I do not desire to be useless.
I don't want my life to be something that tastes good to those close to me but has no substance. I want to have a life that offers God something he can use.
I Peter 1:7 That the trial of your faith, being much more precious than of gold that perisheth, though it be tried with fire, might be found unto praise and honour and glory at the appearing of Jesus Christ:

What about your life? If God doesn't apply heat, will you be usable?
We don't get to pick and choose what ingredients God places in our lives. We don't get to pick how long we are mixed or how hot the oven is.
We can't view the recipe. We don't know all the details. If we trust in God we can rest assured that the end result will be something beautiful that he can use.
Something beautiful Something good All my confusion, He understood All I had to offer Him was brokenness and strife but He made something beautiful out of my life.
Bill Gaither