by adustyframe ~ December 20th, 2009
I don't know if you noticed the ad on my sidebar last week. It was for a book called Cowboy & Wills. Shortly after they submitted the ad, I was contacted and asked if I'd like to review the book.
The ad had already touched my heart so I said, "YES!"
I received a copy to review from the media company and immediately dove in.
It was "love at first chapter".
Watch this short clip and you'll see why.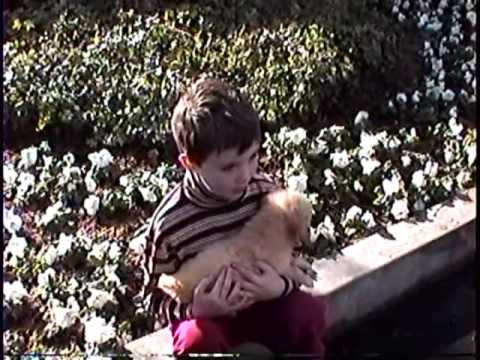 About the book:
The day after Monica Holloway's adorable three year-old son Wills is diagnosed with Austism Spectrum Disorder, she takes him to a pet store. From her first impulse purchase of a full aquarium, Holloway quickly graduates to hermit crabs, hamsters, African dwarf frogs, and a rabbit. But like all children, what Wills wants most was a puppy. That Christmas, eight-week old Cowboy arrives and forever changes their lives.
A blond, brown-eyed golden retriever, Cowboy is more than a house pet; she is the bridge between Wills and the rest of the world. Cowboy's very presence in his life empowered Wills to take risks, to engage and socialize, to establish meaningful and intimate connections with the world around him. Detailing their devotion to each other, Cowboy & Wills (Simon Spotlight Entertainment, October 2009, $24) is a love story like no other.
Like peanut butter and jelly, Cowboy and Wills are the perfect pair. Where Wills is cautious, fastidious, and tender hearted, Cowboy is rambunctious, affectionate, and impulsive. Soon, the boy who could barely say hello to his kindergarten classmates is going on playdates, learning to swim, and sleeping in his own bed. Through it all, Cowboy is there, dragging him toward other children and giving him the confidence to face his fears—with her by his side.
But love is not enough to save the beautiful Cowboy from her fate, and the cruel world of puppy mills quickly catches up to them. When Cowboy is diagnosed with lupus, Wills and his family realize that they must be there for her, just as she was there for them.
Cowboy & Wills reveals the mysterious manifestation and inexplicable power of love, loss, and salvation.  Weaving a mesmerizing tale of hope and despair, anxiety and assurance, trust and doubt, Holloway's matchless talent for crafting stories infinite joy and pain makes her one of the foremost memoirists of our age.
My review:
This book shares the story of Wills–I love that name by the way. Wills' parents receive the diagnosis of autism for their son and the book shares the struggles and joys of parenting Wills.
I found myself cheering for Wills every time he made progress. I thought of friends I know who parent autistic children and I prayed for them as I read.
Monica shares Wills' story in a beautiful touching way.
One thing she did to cope was  buy pets for Wills. They accumulated quite a menagerie as Will grew.
Then Wills asked for a puppy for Christmas and  got a golden retriever he named Cowboy.
Cowboy gave Wills courage to face the things that frightened or overwhelmed him. He made friends and became brave enough to tackle things that he had refused to do before.
My cheering increased as Wills made much progress with Cowboy by his side.
I won't give away the story, but I sobbed through the last two chapters. Then I was ready to curl up on the couch and have a good bawl.
This book is truly a keeper! I'm so glad I was able to read it and share a little with you. You will definitely want to read it.
The good news is that they are giving one of my readers a copy of Cowboy and Wills. Since Wills got Cowboy for Christmas, I'm going to draw on Wednesday and the winner will get one copy of the book. Probably not quite in time for  Christmas, but you'll love it when you get it.
To enter:
1. Leave a comment on this post telling me what interests you about this story.
For additional entries:
1. Tweet about the giveaway
2. Blog about the giveaway
3. Go to the author's website then come back and share something you learned about her or Wills in her interview.
Giveaway ends Wednesday 12/23 10:00 a.m. Pacific time