by adustyframe ~ December 12th, 2010
We had a really rough week this week. It's not all things that I can share but it wasn't fun.
I spent a lot of time praying and asking God to please just help me to rest in his sovereignty and be peaceful.
I do have a tendency to freak out and fall apart before I know what's going on.
The end of the week found us without a job for Lee. Losing a job is never a good thing. Losing a job at Christmas isn't a good thing either. Losing a job in a year when your husband only worked for 6 months isn't a good thing either.
I'm so grateful for God's mercy and strength this week. He provided peace and joy in my heart and we can honestly say, "All is Well."
Take a moment to let the peacefulness of this song rush over you today. And then I want you to rest with joy in the sovereignty of God in all the things you are dealing with in your life too.
(And pray for Lee to get a job!)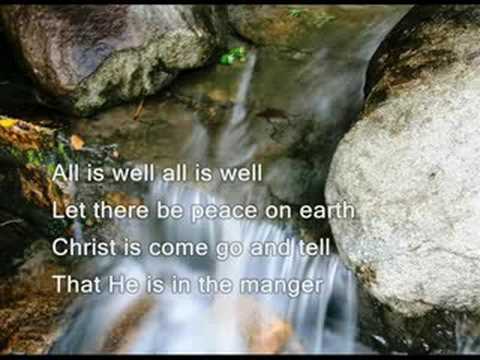 All is well all is well
Angels and men rejoice
For tonight darkness fell
Into the dawn of love's light
Sing Alleluia
Sing Alleluia
All is well all is well
Let there be peace on earth
Christ is come go and tell
That He is in the manger
Sing Alleluia
Sing Alleluia
All is well all is well
Lift up your voice and sing
Born is now Emmanuel
Born is our Lord and Savior
Sing Alleluia
Sing Alleluia
All is well
Born is now Emmanuel
Born is our Lord and Savior
Sing Alleluia
Sing Alleluia
All is well
Michael W. Smith & Wayne Kirkpatrick