by adustyframe ~ March 30th, 2011
When I started this blog, my greatest desire was to minister through our story. At that time it was just about the only way I could do any ministering and I knew that even though I didn't want to be "out there" with our story, God wanted me to share.  I am always blessed when you tell me how my blog has ministered to you, convicted or encouraged you. It blesses me because it reminds me that God can use this ugliness we've lived through and that I can be a small part of His plan.
My dear friend Joy left for Japan last year. Through the miracle of technology, I can chat with her on the phone anytime–she has a US cell phone. (How cool is that!) She called me the other day to share this story and I told her she HAD to type it up so  I could share it with you.
Here's Joy's story–what a blessing to me that I had a small part of ministering in Japan!
Several weeks ago, Lizzie posted a youtube link to the song Ancient Words.
I listened to it for the first time and fell in love with it instantly.  Right away, I went to iTunes and downloaded the song.  I listened to it several times a day on my commute back and forth from Japanese language school.
Throughout this past year in my language class, we were given assignments to write essays and present them in class.  From the very beginning, everyone knew I was missionary and I had the opportunity to talk to my classmates one on one about the Lord but never to the class as a group.
The very last week of language school, our last essay assignment was to write on our favorite song, why it was our favorite, as well as play the song in class.    I knew the song  assignment was coming up and felt the Lord impressing on me, "Now's the time to tell the class as a whole about Me!"
I started praying about what song the Lord would lay on my heart.  There are several great songs out there but also I needed a song that I could explain using the amount of Japanese that I currently know.  I  heard Ancient Words for the first time and knew instantly that this was the song that the Lord wanted me  to write about.  I mentioned this opportunity to several friends, family and my pastor back home and asked them all to pray as I wrote the essay and presented it before the class.
The day before the presentation,  our usual four hour language class was spent writing our Song Essays.  As each student was done writing, they took turns going to the teacher and getting the grammar, etc. checked.  Normally I would rush through my essays so I could get mine checked and get home, but that day I planned on being the last one done. I went to the teacher and showed her what I had written so far and told her I was having a hard time wrapping up the last paragraph.
I told her I know what I want to say in English but don't know how to say it in Japanese.  She asked to look at the printed lyrics that I had (she can read and understand English but not speak it very well).  After reading the words she would say, "How about this…."  And then give me a closing sentence.  I would say, "No, that's not quite it."  She thought for a few more minutes and finally said, "How about this, though the generations change, the word's of the Bible are a live and powerful."  I said, "THAT'S IT!!!"
I went back to my seat to rewrite my final draft.  Then it hit me, "That wasn't a Buddhist  or a Shinto  talking. How did she know what to say?"
By this time, the teacher and I were the only ones left in the classroom.  She came up to me and said, "You know, I went to a missionary school when I was younger."  She then tapped her chest and said, "Yes, Christ is with us isn't He."  I got the biggest smile on my face and said, "Yes, He is!"  I  tried to talk to her more about it but she kindly cut the conversation off.  I was okay with that because one thing about the Japanese people is you don't push.  I was on cloud 9 as I went home that day and thought that if all this essay did was work in my teachers heart, I was happy.
I went right over to my coworkers house and told them what happened in school that day and also to ask them to just double check to make sure I didn't have any doctrinal errors in my Japanese.  They said it was spot on and I went to bed that night praising the Lord for what He had already done and what He was going to do the next day in class.
I was scheduled to present half way through the list of students.  When it was my turn, I said a little prayer and asked the Lord to calm my voice as I read the essay and played the song on CD.
After each presentation, the teacher would ask the class if anyone had any questions or comments.  Normally there were several and it was quite entertaining.  WELL, after my presentation, you could have heard a pin drop.
My first thought was, "OH NO!!!"  But I reminded myself that presenting this song was what the Lord wanted me to do.  The only question I got from the class was one of the Chinese students asked me to write the title of the song on the white board.  I did so and then went back to my seat with a discouraged heart.
That night I had several e-mails asking me how it went.  I wrote back and told them what I just told you.  BUT praise the Lord, He was working in hearts and I just couldn't see it.
The following day was graduation from language school.  At the party afterwards, I had two Chinese girls tell me that they went home that night and downloaded the Ancient Words song.  I heard from another teacher, that she heard that my essay was really good!  Then I was talking with two of my classmates, one an American who is a Christian and the other who is a Muslim from Uzbekistan.  They both told me that my presentation was really good and the Uzbekistan guy also said he went home and downloaded the Ancient Words song!!!!  A song Lizzie just "happened" to post  several weeks ago ended up being played in my Japanese language class to 15 different international students and teachers.
To God be the glory!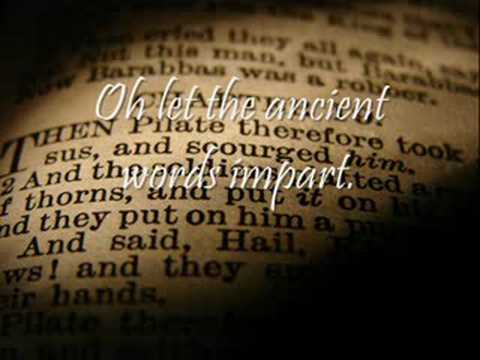 Holy words long preserved
for our walk in this world,
They resound with God's own heart.
Oh let the ancient words impart
Words of Life, words of Hope
Give us strength, help us cope
In this world, where e'er we roam
Ancient words will guide us Home.
CHORUS:
Ancient words ever true
Changing me and changing you,
We have come with open hearts
Oh let the ancient words impart
Holy words of our Faith
Handed down to this age
Came to us through sacrifice
Oh heed the faithful words of Christ.
Holy words long preserved
For our walk in this world.
They resound with God's own heart
Oh let the ancient words impart.
CHORUS (sung 4 times)
We have come with open hearts
Oh let the ancient words impart