by adustyframe ~ July 7th, 2011
Isaiah 64:8
But now, O LORD, thou art our father; we are the clay, and thou our potter; and we all are the work of thy hand.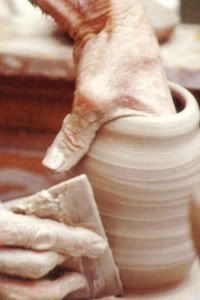 Most of us have read a book or heard a sermon about the potter. It is an excellent illustration of how God molds and makes us into vessels fit for his use.
Many years ago, we were at a living history museum. We entered a potter's shop.
My dad is a pastor and I'm sure he's always looking for ways to apply real life into illustrations for preaching and teaching.
He watched the potter.
Several times, he'd spin and start forming the clay. Then he'd stop and smash it together. Then he went to the side of his work area where a piano wire was strung across. He'd throw the clay back and forth over the wire.
My dad asked what he was doing.
The potter said, "While I was forming this clay I found a stubborn spot in it. I have to cut it across the wire to work out the stubborn spot so I can use it."
He went back to work on the clay nearly finishing a vase, when he smashed it together and went back to the wire.
Several times he did this until the clay was pliant.
My dad noticed a row of seemingly beautiful pots and vases on a shelf high above the work area. They were not down for sale.
My dad asked, "Are those special pieces?"
The potter said. "No those are pieces that I didn't get the stubborn spots out of well enough. When that piece went through the fire it cracked and is now totally unusable."
Wow! This time in our lives is the being tossed back and forth across the piano wire to remove stubborn spots.
I don't like it. It's getting very long. And yet, I don't want to be a seemingly pretty pot put up high on a shelf unable to be used.
Thank you, Lord for working out our stubborn spots.
Please make us useable.
Have Thine own way, Lord! Have Thine own way!
Thou art the Potter, I am the clay.
Mold me and make me after Thy will,
While I am waiting, yielded and still.
Have Thine own way, Lord! Have Thine own way!
Search me and try me, Master, today!
Whiter than snow, Lord, wash me just now,
As in Thy presence humbly I bow.
Have Thine own way, Lord! Have Thine own way!
Wounded and weary, help me, I pray!
Power, all power, surely is Thine!
Touch me and heal me, Savior divine.
Have Thine own way, Lord! Have Thine own way!
Hold o'er my being absolute sway!
Fill with Thy Spirit 'till all shall see
Christ only, always, living in me.