by adustyframe ~ August 31st, 2011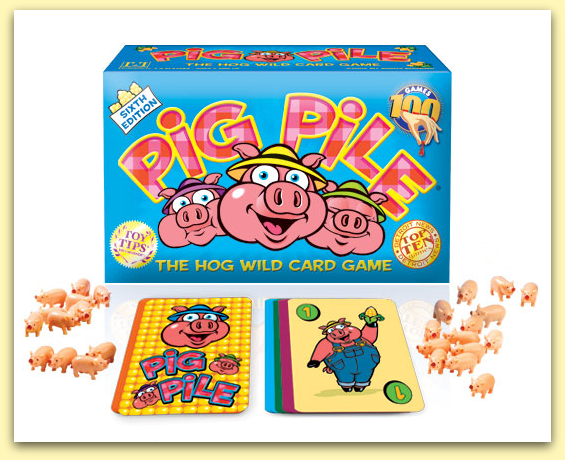 Pig Pile is a fun game from R&R Games for 3-6 players ages 7 and up.
It's a fast paced family game where players compete to corral the most pigs. I love the bright colored cards and the pigs are definitely cute. This game is well made and colorful.
The game includes
*80 cards
*40 pink pigs
*Rules
Pig Pile retails for $15.95 and comes in a nice sturdy box. You may hear me mention that often. I love games that come in nice sturdy boxes!
The game is fun. It took us a little bit of time to figure out the rules but once we did we were having a lot of fun. James wanted to play several rounds.We played with just the two of us, but I heard that it was more fun with the recommended 3 players.
This would be a fun game to play in the afternoons when school is done and you and the kids needs something relaxing to do.
You can play with younger children or like James and I did with just the two of us. You may just have to tweak the rules a little bit.
This is really a fun game with a cute premise. Give it a try you'll be squealing with delight!
R&R Games offers several other products and they are offering 20% off any purchase from their website with the code CREW20.

**Disclaimer: As a member of the TOS Homeschool Crew, I received this product free of charge, in exchange for my honest opinion and review. For more  reviews of Pig Pile & Flea Circus visit the TOS Crew website.