by adustyframe ~ September 16th, 2011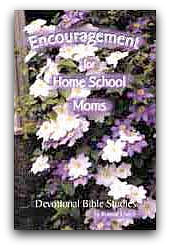 I received a free copy of Encouragement for Homeschool Moms in exchange for a review. Let me tell you I NEEDED this devotional.
Last year was rough for us–really rough! My sweet little boy is a go getter and what they called "strong willed". Then on top of it Dad came home–after a 6 year absence (you know the whole reason for this blog….) anyway, it was rough.
I spent the summer praying and asking God to help us figure out what had to change and what I had to do better. I also searched my heart to see where I was contributing.
When the sign up list came up for this review, I signed up fast! I needed encouragement.
So, here's the scoop…
This devotional by Bonnie Lisech comes in a spiral bound book and is a 31 day study. I really like that they are quick  yet deep. The devotional is full of Scripture and prayer suggestions.
The devotional alternates. 1 day is several verses and perhaps an illustration or story of a Bible character followed by questions about the verses and space to jot down thoughts. The next day is a Bible passage and 2 blank pages to give you plenty of room to write your thoughts about the passage.
The first day's prayer suggestion said to pray for strength and that I'd be a worthy model for my family. Other days reminded me that I am doing an important work and that God is working in and through me.
You know it's not that I didn't realize these things, but it was good to hear and think about daily. It was the perfect timing for my heart too!
Encouragement for Homeschool Moms is available at Deeper Roots Publications for $7.95.
Deeper Roots also offers other Bible studies for middle school and high school students and studies for missionaries.
Some of their studies about discovering God and developing Christ like character look really good to me!
Right now you can use promo code web300 to receive $3.00 of any order $10.00 or more. You can also go to their site and download free samples.
Other TOS (The Old Schoolhouse) reviewers shared their thoughts on the studies they reviewed. You can find them here.
Deeper Roots is on Facebook too! Check them out and see what you think.


**Disclaimer: As a member of the TOS Homeschool Crew, I received this product free of charge, in exchange for my honest opinion/review. For more honest reviews from real homeschoolers, visit the TOS Crew website.