by adustyframe ~ September 22nd, 2011

As a reviewer for the TOS Crew, I received a free copy of this book to review.
James really enjoys science and it's one of my weaker areas, so I really like to look at a broad range of curriculum and idea books to help me out.
AIMS Education Foundation is a non-profit foundation offering hands on math and science experiences for children.
This book from AIMS Education Foundation is Electrical Connections for grades 4-6.  It is softcover with 176 pages and comes with a CD. The book has 24 activities and is available on the AIMS site for $24. 95.
I love that it comes with a CD with the worksheet pages and charts in pdf form. You can just print them and go (rather than copying–so old school!) It comes with permission to make 200 copies of each sheet–more than enough for a homeschool!
We are set up to do the static experiement this week–we were supposed to do it but mom didn't realize we were out of plastic wrap! So we will do it soon. It looks really fun.
I like that the lessons have the worksheets, questions to help make connections, and all the items necessary are listed. The procedure is explained as well–good for mom's like me!
The static lesson has information on figuring out how far away lightening is–we always did the counting the seconds until you hear the thunder but this explains it in much better detail! We have to wait for a storm to try out our new knowledge–but there's a sheet to fill in your observations. I like things like that to put in his notebook!
I think that James will have fun picking out other lessons for us to try too–it's right up his alley!
Find out how to contact them or request a catalog here.
Other TOS crew members reviewed math or science books from AIMS. See their reviews here.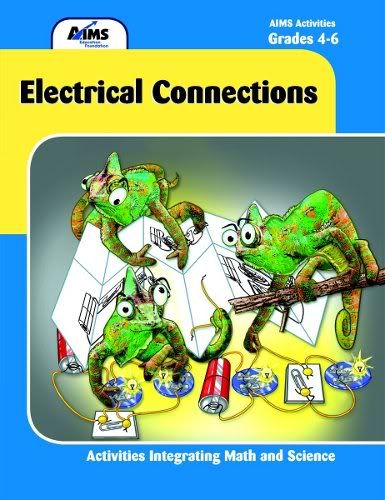 **Disclaimer: As a member of the TOS Homeschool Crew, I received this product free of charge, in exchange for my honest opinion/review. For more honest reviews from real homeschoolers, visit the TOS Crew website.