by adustyframe ~ October 23rd, 2011

I mentioned before that I prayed about this school year. How to do things better–how to reach the heart of my child–how to ignite a love for Jesus in his still young heart.
Last year was really rough schoolwise. Lee just came home –or at least was able to be around–right after school started. I feel like we spent the year trying to figure that out and I got cranky when things didn't go as I planned.
This summer, I prayed for God to help me restructure our life so that school and our lives would be more pleasant.
I heard about this book, "Educating The Wholehearted Child" by Clay and Sally Clarkson but had never purchased it.
When it became available for The Old Schoolhouse Magazine crew to review I said, "Ooo ooo pick me pick me."
Thankfully, I was on the list!
This book arrived in my mail in a BIG package–wow! It's about 370 pages packed full of encouragement, Scripture, quotes and helps.
I read through it quickly in order to be able to review it but I'm certain this will be one of my "read over and over" books.
The Clarkson's encourage parents that God has already given them everything they need to teach their children.
I appreciated several quotes in the book.
Here are a couple:
"Children made in God's image are prewired to be intelligent, creative, and curious. no matter what you do (or don't do!).
"You will never be able to live up to either the real or imagined expectations you place on yourself and your children. Don't even try! Make it your goal to please God in your homeschool, not other people. If you are truly seeking to please God in all that you do at home, that is the reputation that matters to Him and the one that should matter most to you."
The book is laid out in sections–
Home
Learning
Methods
Living
and then the back has resources including a book list for the family and books for learning–several of which I want to read!
One area I really appreciated, was a learning styles quiz. I learned quite a few things about James and how he learns and what I need to do to help him best. Some of it I already knew but it was great to see it in black and white.
After the learning styles quiz are several pages with information helping you understand that style's strengths and weaknesses.
I found this book to be encouraging and yet convicting–reminding me of the areas where I fall short. I felt a little burdened about that at first. But I realized that the authors weren't trying to discourage me but encourage and equip me to do better!
Like I said before, I have to read and re-read this. I went through it pen in hand already and folded down corners, but I imagine I will read through it many more times.
The Clarkson's model seems to be built on Charlotte Mason so I of course loved that. However, I think this book would be an encouragement to any style of homeschool family.
From the back cover:
*Make your home and family the heart of your children's education
*Train your children to become creatvie, self-directed learners
*Enrich life and education with living books
*Identity and work with each child's learning style
*Help your children love to learn as naturally as they love to play
*Gain confidence to teach with practical, commonsense methods
Educating the WholeHearted Child is for sale at Apologia for $22.00
You can see the table of contents here or read a sample chapter here.
See what my other TOS crew mates had to say about this book here.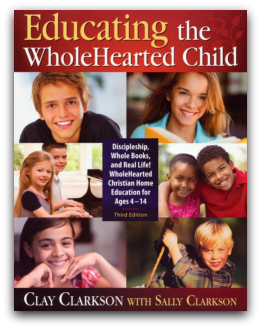 **Disclaimer: As a member of the TOS Homeschool Crew, I received this product free of charge, in exchange for my honest opinion/review. For more honest reviews from real homeschoolers, visit the TOS Crew website.