by adustyframe ~ November 30th, 2011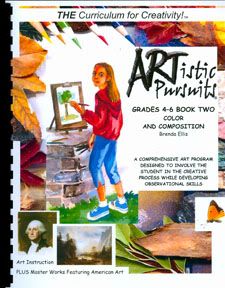 James and I do art appreciation where we learn about famous artists. I've been really happy with this element of our schooling. I really feel it was something I lacked in my own education.
We've done art projects now and then and draw in the nature journal but learning HOW to draw is an area missing in our curriculum
Personally, I can't draw worth a hoot! I was excited to have the opportunity to review Artistic Pursuits. I plan to do the lessons right along with James too.
We get to review Artistic Pursuits book one for Grades 4-6–it retails for $42.95.
The first thing I learned is that you're supposed to use a hard surface other than your table so you can draw at a better angle! I don't know why but I never knew that.
I also learned that when I say I can't draw, I'm looking at the wrong information!
I really like how the lessons are laid out and that they work on a small assignment each lesson.
The lessons allow the students to choose what they'd like to draw rather than assigning them a certain item to draw. I appreciate the independence and ownership it allows the student.
So far James and I have finished 3 lessons.
*We've learned to hold our paper at an angle on a hard smooth surface.
*We've learned that using the right tools really makes a differeince.
*We've learned what type of information to look for as we draw.
I'm really looking forward to completing the other lessons so I can find out if it helps me and my inadequate drawing. If it helps James it's a bonus too! (haha! Just kidding–the homeschooling is for him right not me!)
Artistic Pursuits offers instruction books for all ages. Artistic Pursuits also offers supply packs with the supplies for the lessons.
Their philosophy–from their website.
At Artistic Pursuits Inc., we believe every child can understand the concepts of art and enjoy the process of putting ideas and visual images on paper. We're committed to the goal of helping children become visually aware of the wonderful world we live in, and be able to work in creative ways within this world. We offer parents and teachers a simple way to give children a quality art education that will prepare them to meet creative challenges in their future endeavors.
Read more about Artistic Pursuits philosophy and curriculum here.
Disclaimer: I received a copy of this book in order to provide a review for the TOS Review Crew. I was under no obligation to provide a favorable review.
Read what other members of the TOS Crew are saying about Artistic Pursuits here.