by adustyframe ~ December 2nd, 2011

\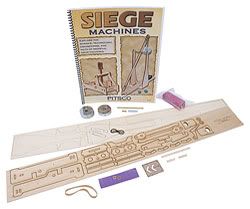 We were excited to review this product from Pitsco Education.  –Medieval Machines Pack
James spent quite a few years very interested in Medieval history and talked all about these machines.
When it came we had a little bit of time before the review was due, so I put it away for his birthday. He opened the box and said, "OH COOL!"
He and Lee spent lots of time working together on it and James was excited to see it put together. It was fun for me to see them working on a project together.
He did a good job I think! He's still working on the catapult.
The Medieval Machines Kit comes with  a Trebuchet Kit, Catapult Kit, Mass Plates, and the Siege Machines book. The guide offers both instructor and student pages, resource pages, puzzles, tests, and more.
It retails for $21.95.
From Pitsco's Website
Help your child attack science, technology, engineering, and math concepts with this engaging and exciting pack featuring two popular siege machine kits. The kits each use different sources of power, thus covering different concepts.
First, the student constructs each model. Then, through the activities and challenges in the teacher's guides, he or she will:
Understand elasticity, projectile motion, Newton's laws of motion, and potential and kinetic energy.
Relate speed and mass, force and range, and mass and range.
Calculate altitude, potential energy, and initial velocity.
Solve algebraic equations and design problems through modifications.
The teacher's guide includes the history of these machines as well as interesting facts. It includes science and math activities.
James was glad the kit came with clay. He made all sorts of projectiles in different shapes to test if the shape made a difference. He pestered the cats a little and mom too.
This kit definitely took concentration and he said to include in the review that sometimes the directions did not make sense to him.
I'm not sure how well he would have done on this kit without previous practice putting models together but if your child has an older sibling or parent to help they will probably do just fine.
Pitsco Education offers many other kits. Check them out.
Disclaimer: As a member of TOS Reveiw Crew, I received a Pitsco Medieval Machines kit in order to review this product. I was under no obligation to provide a favorable review.
See what other members of TOS Crew had to say about this kit here.