by adustyframe ~ April 5th, 2012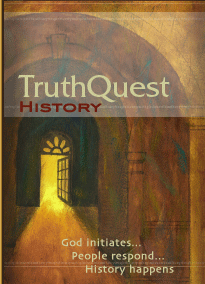 I received the opportunity to review Truthquest History. I'm always looking for curriculum that is based on God's word and Truthquest is a great fit for this priority.
Here's a description from Truthquest History's site:
TruthQuest History is a deep and rich literature-based history study…but with a difference. You will not learn the story of mankind; you will learn the lovestory of mankind. You will not focus on the rise and fall of human civilizations; you will focus on the arrow-straight line of God's unchanging existence, power, love, truth, and plan for civilization. You will not simply 'meet the culture' or 'get the facts;' you will probe the truths of history so deeply that your students will be equipped to change their world!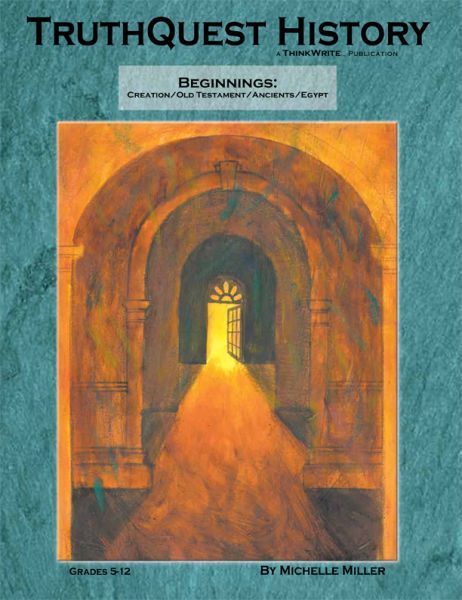 What I like about Truthquest History is the fact that this is how they view and teach history.
Because mankind is not the prime force in the universe …God is. He initiates; we respond. History, therefore, is not first about what people do. It is first about what God does and says, and secondly about what people believe and do in response.
The chapters start out with commentary and points to consider as well as some relevant quotes. After each section there are ideas to help you dig in. Foremost is the Scripture chapters that apply to the commentary. Since we chose Beginnings most of our selections are from the beginning of the Bible but of course there are other Scriptures.
Included is suggestions for other books to read about the topic or point in history. Truthquest chooses living books and stresses that the list isn't a "must do" but that the parent should choose the books they want to cover.
Truthquest does not include a schedule but lets you work through the material at your own pace. I'd say it's pretty compatible with our Charlotte Mason philosophy.
Also include is Think Write exercises to help the student express what they have learned.
The back of the book is an extensive list of all the resources cited in the book.
If you'd like to see if Truthquest is a fit for your homeschool, check out this page explaining how to use their curriculum. –find samples here–find help choosing which book you'd like to use here.
*Truthquest offers several  guides for studying world history. They offer 2 levels–a level for younger children (3 guides) and a level for grades 5-12 (8 guides).
*Prices range from  $24.95 to $34.95 for print copies or $19.95 to $29.95 for pdf files.
See what other TOS reviewers thought of Truthquest History at this post.

Disclaimer: As a member of the TOS Crew, I received this product, at no cost to me, in exchange for my honest review. All opinions are mine.