by adustyframe ~ June 18th, 2012


Creation Illustrated magazine is a beautiful Christian magazine sometimes called the Christian National Geographic.
Creation Illustrated Mission Statement: Our purpose is to share the wonders of God's creation. By revealing fresh insights of His infinite wisdom, gentle touch, undeniable justice, redeeming love, and flawless design, pure truth shall bring renewed peace. Each part of this publication is offered as a reprieve from the daily rigors of life so that all can look to the future with unbridled gratitude and hope.
Each issue corresponds to the seasons and is divided into 3 sections:
Creation Illustrated in Nature
Creation Illustrated in Scripture
Creation Illustrated in Living
The magazine includes articles about animals, natural areas–wildlife parks, etc, Scripture, and photos. In the back is an instructional guide to help you study deeper or truths to share with your homeschool students.
Creation Illustrated is full of photos, Scripture, recipes, ads by Christian companies, and best of all it's presented in a Biblical worldview.
As a magazine junkie, I'm happy to find a magazine that presents the world in the light of Scripture. It's a blessing to have resources that are safe to share with my child–a rarity these days!
(Safe meaning not filled with evolution. As always, I never give a blanket ok to any resource. It's very important to always read with open eyes and a prayerful heart.)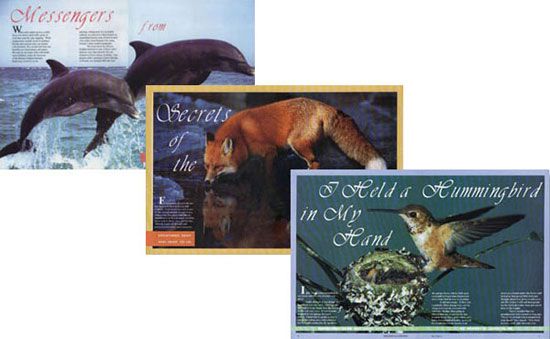 Creation Illustrated is published four times a year and is available by subscription.
1 year-4 issues $19.95
2 years-8 issues $37.95
3 years-12 issues $53.95
You can also order back issues. To learn more about this magazine, check out Who Are We? If you'd like to try a free issue, check out this link.
My thoughts?
*This magazine is professionally presented.
*The photos are beautiful.
*The magazine is a full size magazine–not a pamphlet–you'll get your money's worth.
*We'll use these issues as a resource in the future for devotional time or nature study–for example when we learn about a certain animal, etc.
James Thoughts–
*There's a lot of pictures in here.
So there you have it!

Disclaimer~As a member of the Schoolhouse Review Crew, I received 4 issues (1 year) of Creation Illustrated in order to provide a review. All opinions are my own.