by adustyframe ~ July 31st, 2012

Schoolhouse Teachers.com presented by The Old Schoolhouse Magazine is a treasure trove of help and ideas for the homeschool teacher.
From their site:
SchoolhouseTeachers.com was created with the vision to provide quality homeschool materials from the best teachers in many subject areas. We offer daily, weekly, and monthly lesson plans and activity ideas.The site has daily lessons on many subjects to assist you with your daily homeschool. Some of our Teachers will provide weekly or monthly activities that you can use at your convenience with your own lesson plans. You also will receive daily historical information, daily menu ideas, and tons more.
I'll be honest, this site features so many things that it's actually overwhelming at first. However, that is not a complaint. It's definitely a full and valuable homeschool resource.
If you've never heard of Schoolhouse Teachers.com, take a moment to view sample pages and the introductory video tour.

Included in the membership to this site are issues of  The Old Schoolhouse Magazine–including ALL of their back issue, all the Schoolhouse Planners, unit studies, free e-book downloads, lessons in writing, geography, math, history, technology, careers…well, you should hop over here and read what's included. 
Lessons are written by recognizable names in the homeschool world and are high quality and easy to use and content is added monthly.

You can use Schoolhouse Teachers.com to fill in the gaps of your school year. You can use it to learn things yourself. You can use it as a complete curriculum if you desire.
Membership to SchoolhouseTeachers.com is $1.00 for your first month and then $5.95 per month after that. It is a family membership, which means you don't have to purchase a membership for each student–the cost is a one time cost. You can pay a month at a time and discontinue your membership at any time.
Another great perk is the free downloads available during your membership. For example at 31 days, you're able to download 12 free ebooks. At 62 days, you can choose from 12 more free ebooks  and this bonus continues each month.
Before I was a member, I'm not sure that I would have felt the cost was worth it to me. Now? I'm already figuring out how to budget money for this monthly cost after my year is up. It's that good!
I had a field day going through the resources that were unlocked for me so far. I downloaded ebooks and lessons on Beowulf, Elections, Mentos and Diet Pop, encouraging words for moms and more–actually  I can't even remember them all. I was having so much fun and I will download them on my Kindle so I can read them whenever I have time.
I'm also excited to print pages from the planners as I work on school year plans this week. If you're a homeschool mom, you know how exciting it is to find so many resources in one place. Everything is easy to use and after you spend some time clicking around you'll feel less overwhelmed and more excited.
SchoolhouseTeachers.com also includes daily items–recipes, crafts, art, exploring the US or Canada, this day in history, Shakespeare, Pre-K activities and more. This week they are including information about the Olympics.
I plan to use this as a resource to fill in the gaps and to encourage myself. I'm also going to use it as a way to save money! If I'm perusing this website and downloading all this great stuff, I won't be tempted to go homeschool shopping all over the web!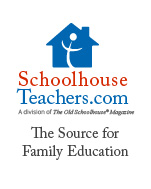 Disclosure~As a member of the Schoolhouse Review Crew, I received a 1 year memebership to Schoolhouse Teachers.com in order to provide a review.
All opinions are my own.