by adustyframe ~ August 6th, 2012
When we received the opportunity to review this book, I wasn't sure what to expect, but it sounded interesting.
King Alfred's English by The Shorter Word is a very interesting book about the history of our English language written for the 7-12th graders.

I truly enjoyed the fascinating history included in this book and learned a few things myself. We studied much of this time period in school in the past couple of years, so a little bit of it was familiar to me. I was surprised by how engrossed I became and how fun this was to read.
I took it along a few times when we went to the pool thinking I'd read a chapter or so and then read another book, but I couldn't put it down. (Ok, I may be a history nerd just a little…).
I told my sister about it and she bought it because she was teaching and ESL class. I kept finding interesting tidbits to share with James or my sister.
One thing I learned is that we started calling letters upper case and lower case based on where the letters were in trays at the printers. The capitals weren't used much so they put them in an upper case. Interesting.
I learned how to tell what language a word most likely came from. I learned why we pronounce words the way we do. I learned quite a bit of history and over all enjoyed it.
The only teensy complaint I had with this is that I couldn't see the maps on my Kindle very well. I tried enlarging the page but it didn't help the maps.
From the website:
Did you know?
 The English were NOT the British. In fact, they fought each other…a lot. And still today, if you call an English person British, he might very well correct you even though he knows you probably won't understand.
You probably don't pronounce the word "when" like your parents. When you say "when" and "win," do these words sound the same? If you're under 50, they probably do. If you're older, you may still pronounce the sound of the "h" and the words sound slightly different. I still pronounce the "h," do you?
The Brothers Grimm compiled German fairy tales, but they were also famous philologists (and what IS a philologist?)
There's a law for the way languages change that backs up Intelligent Design.
For over 300 years the official language of the English court was…French! Seriously. But the English were always fighting the French. That's true. Find out why.
There's a reason we write "knight" but say "nite," and you won't believe how they used to pronounce it.
It was once punishable by death to translate even portions of the Bible into English! Yikes!
Recent scholarship has shown that at least 80% of the King James Bible is the translation work of just one man. Who was he?
The author thoughtfully created a page for
students
and a page for
teachers
to enhance your study including a lot of resources to help you as you study this subject.
You can read chapter one of King Alfred's English here.
View the table of contents here.
The author shares reasons to study this information here.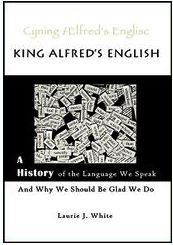 King Alfred's English retails for $16.95 and is available on Rainbow Resource and other online book sellers. Currently, the Kindle version is $5.95.
If you're interested in purchasing this book, leave a comment. I have a coupon code from the author for the first 3 people who'd like one.

**Disclosure~As a reviewer for the Schoolhouse Crew Review, I received a Kindle version of this book in order to provide a review. All opinions are my own.