by adustyframe ~ August 12th, 2012
Rachel DeMille at Thomas Jefferson Education offers a wonderful feature you can subscribe to in order to enhance your homeschool–This Week In History.

This week in history is accessible either on the website or in your inbox as an email! Super convenient and easy to use. I am from a history geek family, so I really enjoy reading the emails and seeing what was happening on that day. Often as I read the email, I share with James what event happened that day in history and show him some of the photos or check out the links.
As we get into the swing of full time school this fall, I'm looking forward to using it to enhance areas we're currently studying as well as to add in some fun projects. Each day is like a unit study already put together for you. Many days include a few links or ideas but many of them include a ton of links and resources. I appreciate having them ready to go so that all I have to do is pick and choose.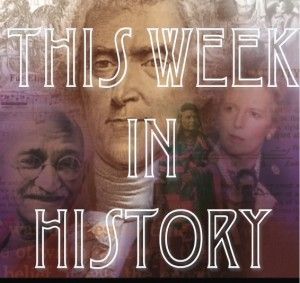 One of the great things about this resource is that the work is all done for you. Each week features the story and an explanation as well as photos, topics to discuss, links to further information or ideas for projects. All I have to is click, read, and plan which activities to highlight that week. Easy peasy!
As I read through the emails, I'm impressed with the level of detail and work involved in preparing this resource. It's full of links and ideas. The email is not "chintzy".
This resource retails for  $9.95 a month. TJED accepts paypal and major credit cards. As a subscriber, you have access to the entire year's archive so you can plan ahead if you like. The email arrives in your inbox at the beginning of the current week, so if you like to plan ahead, you may want to search past weeks to find ideas.
Check out This Week In History here.
See a sample week here. 
To see what my other crewmates thought about this resource, check out this post.

Disclaimer~ As a reviewer for TOS Schoolhouse Crew, I received a one year subscription in order to provide a review. All opinions are my own.