by adustyframe ~ September 25th, 2012

I was excited to review this product from Homeschool Legacy. James often asks, "When are we going to study weather in science?"  So, I asked for the Homeschool Legacy Once A Week Unit Study on weather~Weather On The Move. 
Once A Week Unit Studies by Homeschool Legacy feature unit studies that you add to your homeschool once a week! The work is already done for you and everything is ready to go. You may have to run to the library or print something, but everything else is ready for you.
We rarely do unit studies but I do like the premise of a study on a topic that James is interested in that doesn't require total immersion. I like the the idea of "once a week" and I really like the fact that the study is ready to go with minimal work on my part.
Weather on the Move covers–you guessed it weather! Check out their page to see all the topics.
I printed out weather tracking sheets for James and we put them in a binder. I bookmarked some weather sites suggested in the unit study and told James he can check them out anytime he wishes. We did add our own spot for tracking the sunset.
 Lee and James are a little bit of weather geeks. They watch the Weather Channel just for fun. So, James doesn't mind checking the weather report every day.
I enjoyed picking and choosing which projects to work on and we will continue to work on this study because there was so much, we didn't get it all done!
The unit study includes so many suggestions and ideas that you'll be busy for a long time. I definitely appreciate the resources and the information so neatly organized into one place for  me–saves me a lot of time!
This unit study included printable weather tracking charts, links to helpful websites, Bible verses to read together, book lists, science experiments, projects, and more.
Their site offers a sample schedule to help you customize it to your family and school situation. The unit study itself offers a section on "how to get the most out of your unit study". I appreciate her sharing that the unit study is a tool and it's completely acceptable to make adjustments as you see fit.
Homeschool Legacy's Once A Week Unit Studies are appropriate for grades 2-12 and are designed for the entire family to use together.
From their site:
Each well-rounded unit study fully immerses you and your family in a particular topic while incorporating as wide a range of subjects as possible: family devotionals, quality library reading selections, family read-alouds, history, science, geography, language, life skills, research, art, crafts, music, classic literature, documentaries, field trip suggestions, family game and movie nights, and even some fun "Stump Your Dad Trivia."
James and I thought the stump your dad trivia was fun! Since a lot of our family time is spent on the phone with dad, we're always looking for fun things to chat about with him.
Once A Week Unit Studies Weather on the Move retails for $19.95 —the product offered on the site is a physical product (not a pdf download which is what we reviewed on the crew).
Homeschool Legacy's Once A Week Unit Studies also fulfill requirements for:
Boy Scout Merit Badge: Weather
American Heritage Girls Badge: Young Meteorologist
This Once A Week Unit study offers the following subjects:
Week 1 – Meteorology
Week 2 – The Sun: Our Solar-Powered Weather Engine
Week 3 – The Atmosphere: An Ocean of Air
Week 4 – The Water Cycle
Week 5 – Frozen Precipitation
Week 6 – Clouds
Week 7 – Extreme Weather
What we liked:
*I liked the information organized and at my fingertips.
*I liked that it made me realize that while I'm not a "unit study" mom, there are definitely valuable unit studies out there and I'm hoping to try a few more of this company's unit studies.
*I liked that I could pick and choose from the offered selections and customize it to our homeschool and James' interests and needs.
*James liked noticing the change in the sunset and we actually had quite a few conversations about that.
*James also liked tracking the weather and noting the differences.
*We are both excited about the field trip suggestions–we have to wait til our local meteorologist can squeeze us in for a tour, but it's in the works and I'd have never thought of asking if it hadn't been suggested in this unit study. We also visited a local organic farmer's greenhouse and enjoyed a tour led by the farmer himself. Another great suggestion from this study–thank you!
*I like that even though we didn't do everything in this study (yet), it's ok! I can schedule them into our studies even throughout the year.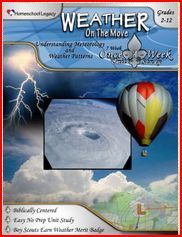 Several of my crew mates reviewed other books in the Once a Week series–they all look interesting!

Disclosure~As a member of the Schoolhouse Review Crew, I received a free pdf of Weather on the Move in order to provide a review. All opinions are my own.