by adustyframe ~ October 1st, 2012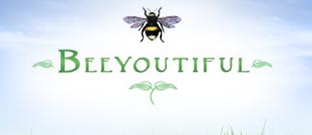 When we were able to express interest in product from Beeyoutiful to review, I picked this set of products. I prefer to use natural products for our skin and for treating health, so I was excited to review these items from Beeyoutiful.
Here's what their website says about the company:
Beeyoutiful.com, we believe that each individual is responsible for their own health. It is not a doctor's responsibility to keep you in good health. Instead they are a tremendous resource, especially for those times when urgent care is required. But, they are only one of many resources. And the tools they use, while powerful, are not the only tools available. But a tool is worthless unless one knows how to use it.
We have found a lot a tools that have worked very well for our families, and made Beeyoutiful a repository for those tools, as well as the information to effectively use them. As we learn more, we share more. Our goal is to eventually carry every natural product that we use. We're not there yet. We may never be as we are constantly being exposed to new and great products. As much as is in our power, we want to aid others in obtaining and maintaining good health.
Our mission is to do good to all men.
Here's what I received in the package I reviewed: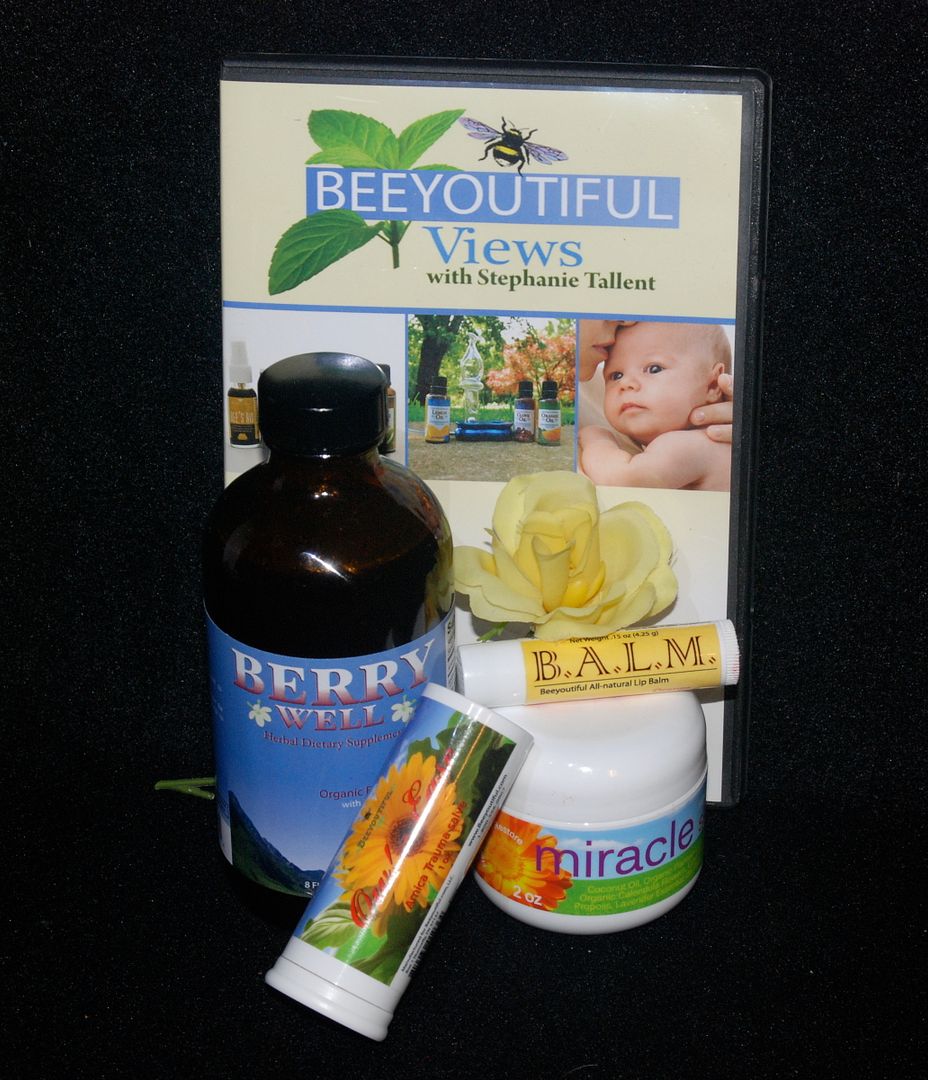 Berry Well, an elderberry syrup used as an herbal dietary supplement to fight against flu, colds and both bacterial and viral infections.
Ow!-Ease, an arnica trauma salve, used with strains, sprains, bruises, and contusions.
Miracle Skin Salve can be used to sooth sunburn, chapped lips and diaper rash, or for more serious conditions like painful wounds and burns.
Lip BALM, which stands for Beeyoutiful All-natural Lip Moisturizer, is available in orange or peppermint
Beeyoutiful Views DVD contains video of Stephanie Tallent sharing how she uses some of the most popular Beeyoutiful products with her family.
I've been using the Miracle Skin Salve for my very dry cracked skin on my hands. While I was canning tomatoes, I washed so many dishes and had tomato juice on my skin quite a bit. My skin is already sensitive and dry so canning was rough on them.
I slathered this all over my cracked spots and put socks on my hands when I went to bed–lovely huh? However, my skin feels much better and the salve definitely helped sooth the trouble spots.
It's kind of an ugly color and smells like herbs  but I don't care–it works and that made my skin happy.
From their site:
Miracle Skin Salve promotes deep healing and restoration using a soothing blend of organic herbs and oils. From sunburn, chapped lips, and diaper rash to painful wounds and burns, apply salve as often as needed and watch your skin smile
2 oz of Miracle Skin Salve retails for $15.00
Berry Well  is an elderberry syrup used to help your immune system fight of  flu and viruses.
From their site:
Never fear the flu when you keep Berry Well on hand. Each ingredient in this pleasantly fruity syrup holds its own against flu, colds, and a swarm of bacterial and viral infections. This organic Elderberry Syrup contains Propolis, Raw Honey, and Echinacea.
I've used elderberry syrups before and really do feel that they help the body fight off infections. James ended up with a pretty bad cold that had him down on the couch sleeping in the middle of the day–that's NOT my son.
I broke open the bottle we received in the review package and had him start dosing up. I feel comfortable giving him natural immune boosters when he's ill and had no qualms giving him this syrup.
He wasn't very happy because as he hollered while downing one dose, "THIS TASTES LIKE IT HAS VINEGAR IN IT." (It does but I didn't tell him that. ) I know that apple cider vinegar is good for the immune system so I understand why it is in there but at the same time that's something we didn't love–it's hard enough to get kids to take something when they are feeling badly and to add insult to injury the poor kid had to swallow a syrup that tasted strongly of vinegar!
But the benefits outweigh the vinegar taste so he had to keep taking it. I do believe it helped him although I dosed him up with a lot of other natural things so it's hard to say exactly which thing helped him specifically. I think they all work together.
I do think it's important to keep elderberry syrup in the medicine cabinet since it can help with the flu.
An 8 oz bottle of Berry Well retails for $19.75

Ow-Ease is an arnica salve. I've used and loved arnica for years.
Here's what their site says about Ow-Ease:
Ease your pain away. Using a proprietary blend of herbs, Ow!-Ease relieves pain associated with sprains, strains and pulled ligaments and muscles, bruises, and contusions. It works quickly and effectively to help reduce swelling and muscle pain, and is excellent as a rub for body builders, construction workers, and gardeners alike. The amazing qualities of these herbs work synergistically to soothe, restore, and actually speed tissue healing.
We used it on sore muscles a couple of times and I rubbed it on a bruise on my leg.
A 1 oz rub on tube of Ow-Ease retails for $15.00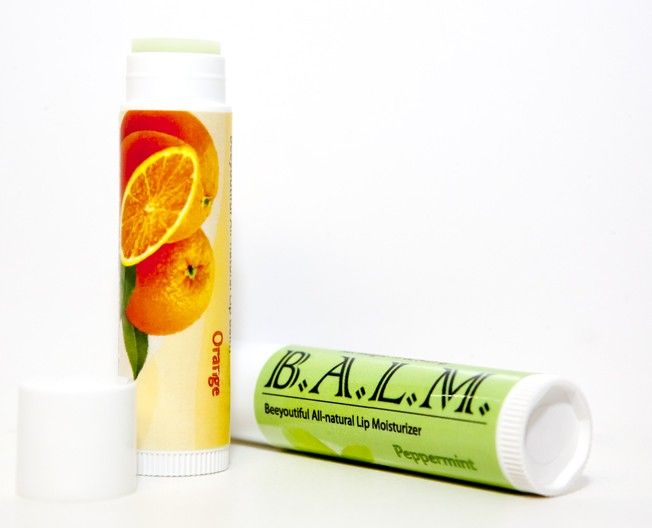 We also received a tube of orange all natural  lip moisturizer. I received one of these last time I reviewed products for Beeyoutiful and let me just say, I LOVE IT!.
Orange is not my favorite flavor but this is really nice and light and smells yummy. It's a natural orange fragrance and flavor rather than fake orange that is in candies and other body products.
The lip balm is a normal size tube and is long lasting and stable. I've tried natural lip balms before and sometimes they're very soft and I feel that they don't last long or that they will leak in my purse. Not so with Beeyoutiful's lip balm. I really do love it!
A tube of orange or peppermint Beeyoutiful Lip Moisturizer retails for $3.00.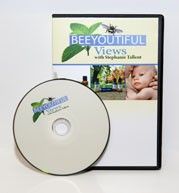 We also received a $3.00 DVD from the company showing how to use many of their products.
Some of my crew mates reviewed this package and some reviewed another skin care package and some reviewed Beeyoutiful's mineral make up! To see what they thought, check out this post. 

Disclosure: I received a package of skin care products from Beeyoutiful in order to provide this review. All opinions expressed in this review are my own.