by adustyframe ~ October 13th, 2012
The Pilgrim Story was developed by Dayspring Christian Academy, which is one of 25 Principle Approach® schools in America.
The Principle Approach is America's historic, classical Christian method of education to prepare young people to be servants, scholars, and statesmen in our constitutional federal republic.  This requires developing a biblical worldview as well as excellence in character, skills, and talents.  The Principle Approach is very intentional in its purpose:  equipping young men and women to help restore the biblical foundation of America.
Course type: Self-Paced, Interactive
Level: Grades 3 through 6
The course doesn't meet at any certain time and you are free to use it around the clock. When you purchase this course, you will have access for 6 months in order to complete the lessons.
Contents:
This course teaches the story of the Pilgrims from a view that God led the Pilgrims and so it teaches the principles and character traits found in the story of the Pilgrims from the standpoint of the Bible and Christian principles.
Lessons include:
King Henry, Geneva Bible, Liberty of Conscience, Leaving Leiden, Conditions on the Mayflower, Building Christian Character, the Mayflower Compact,and of course more.
Activities  include crafts, application, live action, map-making, and reasoning questions as well as a virtual field trip to Plymouth.
Each lesson takes between 30 and 45 minutes to complete and includes a vocabulary list and note sheet.
Instructor: Mary Stauffer.
Mary Stauffer has taught third grade at Dayspring Christian Academy since 1994. She has led more than 20 guided tours of Plymouth, MA, and uses the words of our forefathers as found in primary sources to teach the Pilgrim story. She also lectures on the subject to the community and is passionate about teaching and preserving the truth of our nation's past.
Our Thoughts:
I think that this course was a refreshing change of pace for James. We do very little worksheet type work and it was good for him to practice paying attention and filling out the note sheets.
He really enjoyed the little quizzes at the end of each lesson–especially when he got them all correct. He cheered for himself which was fun to watch.
I usually sat down with him to watch the lessons and appreciated the information that  the course shared.  Of course this is a great time of year to learn about the Pilgrims with Thanksgiving right around the corner.
James was frustrated in one lesson when the answers went from #9 to #11 and there was no slide for the question #10. We re-wound the lesson and watched it two more times trying to find the information but couldn't. The company did provide the answer to the crew, but it hasn't been updated on the site yet.
Also, several times when the narrator quoted a Pilgrim father, he used a different voice  to read the quote. James felt it  sounded "creepy". (I concurred.) These are just 2 very little things that we didn't enjoy.
My sister discovered that our family has a Pilgrim ancestor, so we find this course particularly interesting. We've done some reading about the Pilgrims in previous school years but I appreciated this course and the fact that it's Biblically based.
I like  the interactive lessons and that James can work on them at his own pace. I also liked that the worksheets are easy to print.
The lessons are well put together and the multi-media approach is easy to use. I also like that the student has to click the next button so if more time is needed to fill in a blank or to review a concept it's easily done.
We didn't get to the craft activities yet or the virtual field trip to Plymouth, but I'm looking forward to that part of the course. We will continue to finish this course, because I believe that learning history with a Biblical worldview is important.
The  course is available for 6 months after purchase, which is definitely a bonus. At $99 for one course, I'm not sure that we would be able to squeeze it into the budget. For families with many children, you may feel that the cost is not prohibitive.
If you're interested to know a little more watch this trailer.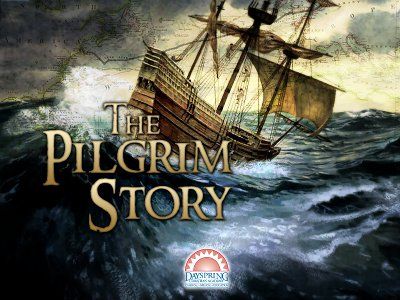 Specifics for The Pilgrim Story:
*For grades 3-6
*Work at your own pace
*Retails for $99.00
*Available at Dayspring Christian Academy

Disclaimer: I received access to The Pilgrim Story for 6 months at no cost in order to provide a review–all opinions are my own.