by adustyframe ~ April 11th, 2013

We reviewed the K-8 program  e-science  by Supercharged Science. E-science is for students in grades K-12.
Supercharged Science offers 2 different levels you may purchase. K-8 is $37 per month. K-12 is $57 per month. You may cancel at any time.
When you subscribe, you receive access to the first 7 units and then you receive access to 2 more units each month.
Supercharged Science includes over 900 experiment videos and over 2,000 pages of lesson plans.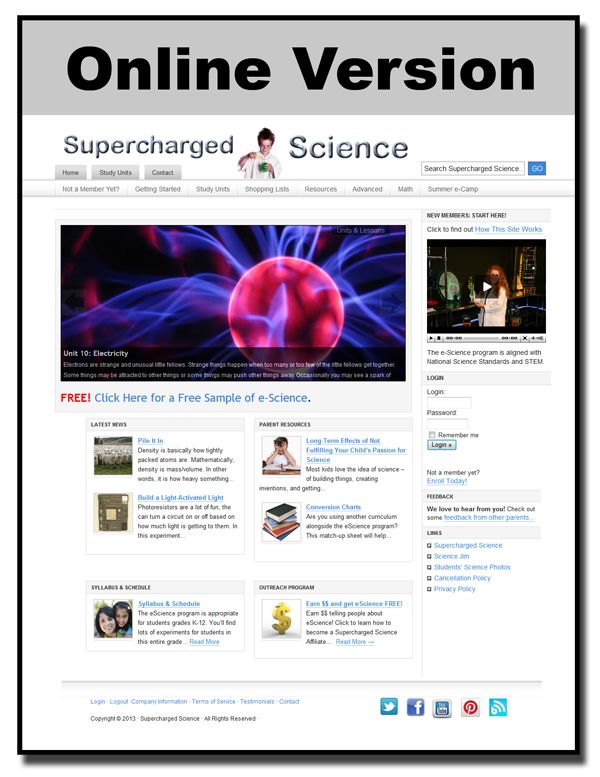 Each unit includes lesson plans, lessons, reading material, experiments and videos, and exercises.
Many of the experiments use common household items. If you need to purchase items for a lesson, the website includes shopping lists for each unit.
The author of this program is a real rocket scientist. She shares a page with information for homeschool parents–check it out if you'd like more information on this product. She started the program to help improve the way kids learn science.
You can try a free sample of this program if you'd like to learn a little more.
What  we liked:
*Organized and easy to find topics.
*Videos of experiments to show what should happen.
*Lesson plans and shopping lists so you can put together a lesson or experiment before starting.
*Compatible with other science curriculum–choose a topic you're studying and find experiments to complement what you're currently studying.
*If you choose, you may use it as a complete curriculum–no other books necessary.
*Doesn't teach creation or evolution so may be used by any family.
*The student can work independently–reading the material on their own and choosing experiments that they are personally interested in.
How we used it:
*We started out reading all the info and then trying to choose an experiment. We quickly changed to just looking through the experiments  A lot of the reading was overwhelming and took the fun out of science for James. IF we had been using this as our only science curriculum, then the reading wouldn't have been optional.
*James started looking through and choosing experiments to do on his own. He tried several different things that I didn't get a photo of. I know he learned from the videos because he'd say to me, "Mom the lady said to do it this way…"
*We're glad that we still have lots of time left on our  access to this program because we barely skimmed the surface of this program. It's quite comprehensive.
(making rock candy)
Concerns:
*At first it's VERY overwhelming. There is just so much. It's easy to get bogged down and get overwhelmed. That is not a bad thing because you're paying for it and definitely getting what you paid for. It just is our experience that it takes a bit of time to get your feet wet and feel confident in using the program.
*The cost for us would probably be something to consider very carefully since it's a reoccurring monthly fee.  
To see what other reviewers thought of this product, check out this post.