by adustyframe ~ April 13th, 2013
We were asked to review some resources from Leader Garden Legacy. We reviewed U.N.I.Q.U.E. Kids Growing My Leadership Garden (retail $18.95), and the adult book U.N.I.Q.U.E Growing The Leader Within (retail $18.95).
From the website~Every person is a unique seed in the world's garden. Each seed grows a leader from which greatness can blossom. Imagine the future of our planet if we nurture each child to sprout greatness. — Debra J. Slover
We also reviewed downloads that complement this product–a children's pdf activities and journal (retails for $8.95), and the kids MP3 audio downloads (retail $8.95)
This resource uses a fable featuring a lamb named Hugh, to help teach life lessons and leadership principles. The website shares much more information about the product–check out this page–Empowerment Tools Overview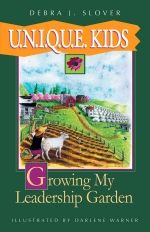 The children's book is for children ages 8-12. It's a story of Hugh the lamb who has some issues.
I liked the metaphor of the garden and how negative things in our lives are like weeds that have to be removed. The story also shared how you can purposely plant positive things in your garden to fill it up with good things.
The illustrations are bright and colorful.
Unfortunately, we found this really confusing. The story wasn't very easy to follow and James greatly disliked having to listen to it. I feel that maybe they style is for children much younger than his 12 years. However, there are so many terms introduced constantly that I don't think little kids would have an easy time following along. I didn't even have an easy time understanding the terms and words and how the author meant them to be used as we read along.
Also, at the beginning of the story, we're introduced to the idea that perhaps Hugh's mother was killed by coyotes. This caused his fears, but I also think it may be disturbing to young children.
I didn't recognize this as a typical leadership book–not even a typical leadership book for kids. I was left unsure of what we were really supposed to get from the resources.
Other than the basic premise of the book as a garden and this that I shared above, negative things in our lives are like weeds that have to be removed. The story also shared how you can purposely plant positive things in your garden to fill it up with good things, we took very little away from this book.
We did do some of the journaling activities but they were also either  too young for James, confusing,  or left me wondering what the purpose of the activity was. We don't do many things "just to do them" and I personally felt that a lot of the journal was busy work.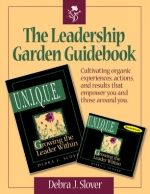 The guidebook is meant to accompany the book to help you in your own life or that of older students. It's partly the stories from the book and expansions of the exercises.
The adult book shares the story of Hugh as well as the story of the author. The book goes back and forth. Exercises are included at the end of each chapter.
This is a secular resource and as I would with any secular resource, I did have a constant eye on the concepts being shared and often re-worded or discussed concepts from a Biblical framework.
James' opinion: "It was hard to understand and I had trouble paying attention."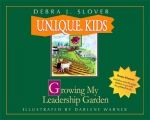 Pros:
*Colorful illustrations
*PDF files for journaling activities were easily downloaded and printed.
*The story of pulling negative and growing positive is a beneficial message.
*The author truly desires to encourage people to take responsibility for their lives and not allow themselves to be victims.
*The voice on the MP-3 is pleasant.
*Books are printed on nice quality papers–do not feel "cheap".
Cons:
*Confusing
*Too young for my 12 year old and a few concerning elements for younger children (mentioned above).
*Hard to follow with constant introduction of new terms.
For more information check out the FAQ's.
Leadership Garden Legacy is offering the TOS Community a Spring Special Discount of 20% on all their Empowerment Tools. This is in addition to their already discounted Tool Kit bundles.
To receive your discount, enter the discount code: TOS-SS20D upon checkout. This is a limited time offer and the code will expire on May 31, 2013.
I do feel that James is a born leader and I was really excited to review this resource hoping to find some excellent training to encourage him in his bent as a leader. This resource however, was not a fit for our family. Other reviewers may have different experiences and opinions, so check out what other TOS reviewers thought about this resource at the TOS Blog.