by adustyframe ~ April 17th, 2013
I've been a Susan May Warren fan for awhile. I found her by doing a book review a few years ago. I've enjoyed many of her books and especially the series on Deep Haven, Minnesota.
When I heard on her Facebook page, that they wanted reviewers for her new book set in Deep Haven, of course I said yes! This book is the first in a series about the Christiansen family and I'm already looking forward to the next books.
When the book arrived, I dug right in and was immediately hooked.
The story pulled me right in and I wanted to read and read and find out what was going on with the characters and the story.
Of course I found it interesting that probation, plea bargains, and district attorneys were involved with this story. If you've read my blog for any length of time you know that's all part of our story too!
I appreciated that her writing about those issues was realistic. I've read some books that touch on these issues that are pretty far off base from reality.
Ivy is the new assistant DA in town. She moves to Deep Haven hoping to find community and family that has been missing from her life. She was raised in the foster care system and just wants to find somewhere to belong.
She buys Darek Christiansen at an eligible bachelor auction and the sparks fly–some good sparks and some not so good. Darek is a widower with a long trail of mistakes and he isn't interested in a woman invading his life!
The story truly is enjoyable! I kept wishing I could rent a cabin from Darek's family and sit at the lake for days on end!
About the Story:
Darek Christiansen is almost a dream bachelor—oldest son in the large Christiansen clan, heir to their historic Evergreen Lake Resort, and doting father. But he's also wounded and angry since the tragic death of his wife, Felicity. No woman in Deep Haven dares come near.
New assistant county attorney Ivy Madison simply doesn't know any better when she bids on Darek at the charity auction. Nor does she know that when she crafted a plea bargain three years ago to keep Jensen Atwood out of jail and in Deep Haven fulfilling community service, she was releasing the man responsible for Felicity's death. All Ivy knows is that the Christiansens feel like the family she's always longed for.
And once she gets past Darek's tough exterior, she finds a man she could spend the rest of her life with. Which scares her almost as much as Darek learning of her involvement in his wife's case.  Caught between new love and old grudges, Darek must decide if he can set aside the past for a future with Ivy—a future more and more at risk as an approaching wildfire threatens to wipe out the Christiansen resort and Deep Haven itself.
Find out more at Susan's website.
About the author:
Susan May Warren is the bestselling, RITA Award–winning author of more than forty novels whose compelling plots and unforgettable characters have won acclaim with readers and reviewers alike. She served with her husband and four children as a missionary in Russia for eight years before she and her family returned home to the States. She now writes full-time as her husband runs a lodge on Lake Superior in northern Minnesota, where many of her books are set.
She and her family enjoy hiking, canoeing, and being involved in their local church. Several of her critically acclaimed novels have been ECPA and CBA bestsellers, were chosen as Top Picks by Romantic Times, and have won the RWA's Inspirational Reader's Choice contest and the American Christian Fiction Writers Book of the Year award. Five of her books have been Christy Award finalists. In addition to her writing, Susan loves to teach and speak at women's events about God's amazing grace in our lives.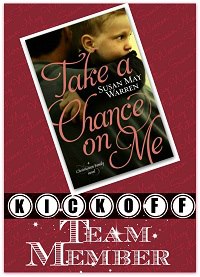 Disclosure~I received a free copy of this book in order to provide a review. All opinions are my own.